Recently, I was talking with a new friend of mine, Tommy Spaulding; he is a speaker, author, coach, and all around good guy.  Tommy asked about the bracelets I wear and if they had any meaning.  I have begun seeing more and more people wearing bracelets and haven't thought much of it.   Even though I wear them where all can see, to me, they are personal, reminders, and memories.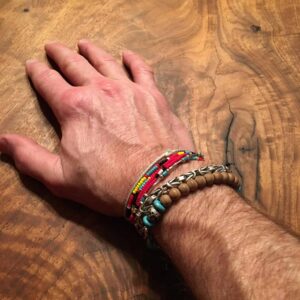 Each bracelet is a reminder of an adventure or significant event in my life.  For example:  I traded a harmonica for one of my more colorful memories to a Masi Warrior while on safari in Kenya. I wear it to remember to be fearless. Another is made out of Tibetan Buddhist prayer beads from Kopan Monastery outside of Katmandu in Nepal.  I spent time in this monastery and now wear it as a reminder to always keep smiling and enjoy life's journey.  One of them is handmade plated silver from Cambodia.  Right after my wife, Reka, purchased it for me, we were in a rollover Tuk Tuk (a motorized rickshaw) accident.  I was granted the privilege of helping our driver with some first aid. This specific bracelet reminds to always stay humble.  My most recent was another gift from Reka given to me last July.  We had just completed a 50-mile backcountry, self-supported, backpacking trip in Glacier National Park.  I was celebrating my second year out from a total hip and knee replacement on my 50th birthday with my 50  year old wife.  This is to remind me that I am the luckiest guy in the world and that we live in a time of unfathomable abundance and medical science.
The bracelets reflect the hippie side of me–the part that loves the woods and simpler lifestyle. It has taken a long time for me to embrace that my inner hippie–not run away or hide from it, but own it.  I now realize these beliefs aren't at odds with my skills in guiding people or making money. In fact, it's quite the opposite. These combined accumulated skills are ingrained in who I am and have had a huge impact on how I can help others, problem solve, and achieve success.
I had to wrap my little brain around the idea that I can be both the hippie and the capitalist at the same time. It may have taken 50 years, but today, I fully embrace that I don't have to be one or the other because in reality, I can't. I am both; I am a hippie-capitalist.  This works for me and I feel it has helped me find a little inner peace.   I would encourage everyone to embrace who you really are and then own it.
Finding where we fit in the world can feel like an uphill battle. If you need anything, I'm here to help. No expectations or obligations. Reach out anytime. Do you know someone who could benefit from reading this? Feel free to share and don't forget to keep smiling.