Here's the takeaway: A proven process allows you to show what you do, not just tell it.
About half my companies use something that in the EOS world, we call a documented proven process: It's a documented way to show their clients, or prospective clients, what their product or service is. Instead of telling somebody what you do, a proven process is showing them what you do.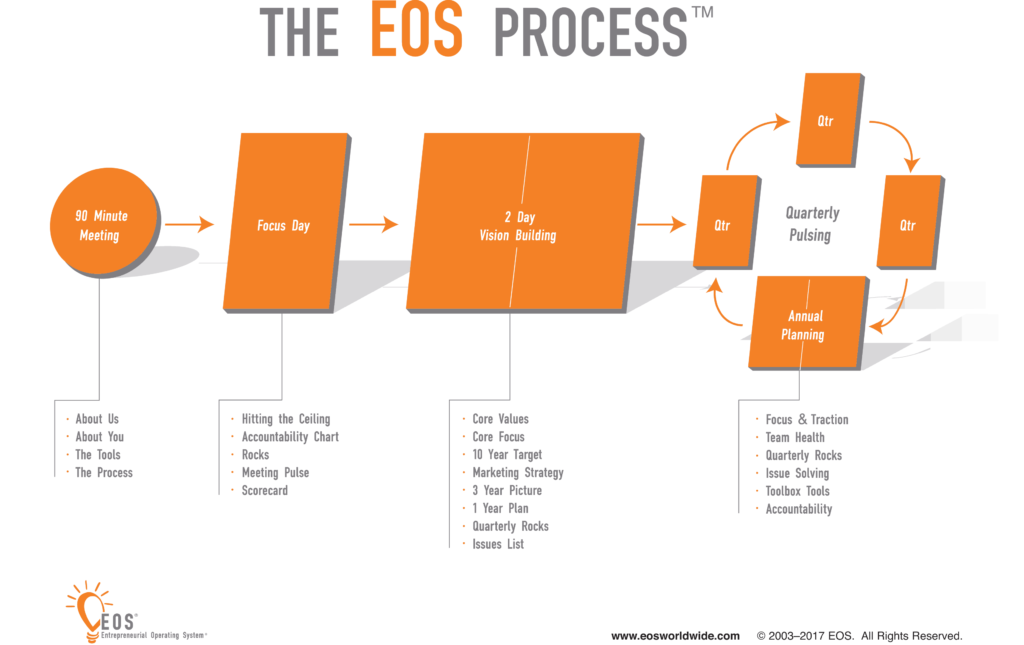 Initially write out the steps of the sale from the very introduction all the way to the conclusion. From here you will want to simplify it down to key steps and bullet point that occur during each step. Have each step represented by a geometric shape and these bullet points underneath. If you have geometric shapes and/or bullet points that walk people through the process, as human beings, it makes it easier. "Step 1, meet here. Step 2, move forward in this way. Step 3, do X, X, and X." A proven process is also an amazing, simple way that also ensures you don't let anything fall through the cracks.Put your process on a piece of cardboard or heavy cardstock this will help provide perceived value.
On the back side of the cardstock, I usually suggest companies put your their proposition: What are the things about your process that are of value for the potential client? It's really that simple.
A clear proven process helps to remove any questions and reassure that this is a tried and true process The questions it can answer are: How can we take the fear away for our clients? How can we motivate someone to work with us, or become a client, by making them less afraid of the process? When you break something complex down into simple steps, it takes the fear away. Think about buying a house. It's complicated, but you can break it down. Step 1, identify needs and begin to look for the house. Step 2, meet and qualify with the banker. Step 3, go out and review houses, etc. etc. until you make an offer. Okay, great, the steps are clear and it's less scary than it sounds.
Every proven process looks different. I work with a nonprofit, specifically, that uses one that I love that's a circle format. They want to tell clients that they create an ongoing, long-term relationships that last into the future. For them the process works through the steps from when people express interest, to determining where the gift to the nonprofit is going to go, to what the legal process is when the gift is made, and the whole nine yards.
I also work with a mid-sized software-as-service subscription company solution for a specialty niche. They have their proven process down to a science when it comes to identifying the needs, outlining the process, onboarding, training, implementing, and explaining exactly what their service looks like. Because of this, they have created a video based on their process as a sales tool, an actual cards that the sales team uses for consistency and the customer service team has adopted it to ensure the onboarding and reoccurring engagement is consistent. They're knocking the cover off the ball.
As always, if you need help or support, feel free to reach out anytime, and we'd be happy to help.